Bitcoin's Back to $40K and Millions of Shorts are Liquidated: The Weekly Cryptorecap
After weeks of long consolidation and sideways action in a narrow and squeezed range, Bitcoin finally broke free. It was a good thing.
Over the past week, BTC is up by a considerable 20%. At the time of this writing, it's trading at around $39K, having pulled back slightly from the psychological and technical resistance at the coveted $40K level. Notable is also the fact that there was an increase in trading volume during the week. Although it is not as high as April and May's levels, it is still an improvement.
The week began with a promising climb. BTC had gained $2.5K by Sunday. But the real advance came on Monday. The price skyrocketed from about $35,000 to $40,000, leaving millions worth of short positions liquidated. It was a constant battle with the desired line and BTC eventually lost. Today, we saw its price sliding down to $39K.
The majority of cryptocurrency markets followed their lead, with many altcoins also seeing impressive gains. Ethereum is up by 15.5%, BNB is up by 6%, ADA – by 7%, XRP – by 21%, and so forth. It became clear that Bitcoin's rise is more than the rest of market, as the BTC dominance indicator jumped by 2% in the past week.
This was possible due to some significant developments in the field. The world's governments continue to push for stricter crypto-related regulations in various areas, including taxation. After slashing its leverage down to 20x (from a max of 125x), Binance, for example, also revealed that it would be halting derivatives products in certain countries in Europe.
On a more positive note, a recent survey revealed that the number of cryptocurrency users more than doubled in the first half of the year. This is a remarkable achievement in terms of overall mass adoption. America's second oldest bank – State Street – doubled down on its involvement and said that it would be offering crypto services to its private fund customers.
Overall, the market performance this week was refreshing after months of choppy activity. We don't know if the positive momentum will continue.
Market Information
Market Cap: $1540B | 24H Vol: 78B | BTC Dominance: 47.6%
BTC: $39,057 (+20.7%) | ETH: $2,347 (+15.5%) | XRP: $0. 72 (+21%)
This Week's Crypto Headlines You Must See
Binance Halts Derivatives Products for Users in Italy, Germany, and the Netherlands. The world's leading cryptocurrency exchange, Binance, announced that it would halt its derivatives products for users from Italy, Germany, and the Netherlands. This announcement comes amid a wider regulatory clampdown on all aspects of the industry.
Number of Crypto Users Doubled in Just 6 Months: Survey. Following the parabolic advance of the entire cryptocurrency market, the industry saw an influx of new users. As a matter of fact, a recent survey revealed that their number doubled in just six months.
For The First Time Since May 12th: Bitcoin Fear and Greed Index is Neutral. The Bitcoin Fear and Greed index became neutral for the first time since May 12th. The market was in extreme fear before this. This is a sign that confidence has returned over the last few days.
Goldman Sachs Files for "DeFi" ETF to Track Tech Giants. The giant Wall Street investment bank Goldman Sachs has applied for an exchange-traded fund (ETF) for what it says is the decentralized finance (DeFi) space. But things may not be as they appear.
Not yet: Amazon denies rumors about plans to accept Bitcoin. The world's largest online retailer, Amazon, has officially denied all rumors related to it accepting Bitcoin as a means of payment this year. The company's spokesperson stated clearly that they have no plans to do so.
America's Second Oldest Bank State Street to Provide Cryptocurrency Services to Private-Fund Customers. The second oldest bank in the United States, State Street, said it would offer cryptocurrency services to its private-fund clients. The institution partnered up with Lukka Inc , a crypto-focused technology company.
Charts
This week we have a chart analysis of Bitcoin, Ethereum, Ripple, Binance Coin, and Solana – click here for the full price analysis.
SPECIAL OFFER (Sponsored)
Binance Futures 50 USDT FREE Voucher: Use this link to register & get 10% off fees and 50 USDT when trading 500 USDT (limited offer).
PrimeXBT Special Offer: Use this link to register & enter POTATO50 code to get 50% free bonus on any deposit up to 1 BTC.
Disclaimer: Information found on CryptoPotato is those of writers quoted. This information does not reflect the views of CryptoPotato about whether to invest in, sell or hold investments. Before making any investment decision, you are strongly advised to do your own research. You are responsible for any use of the information. For more information, please refer to Disclaimer.
Cryptocurrency charts by TradingView.

Mint-free OKX Football Cup NFTs for group stage games enter the second round
The second round of group-stage games at the FIFA World Cup 2022 began today. Users can still mint free OKX Football Cup NFTs until the FIFA 2022 Group stage ends Get a chance to redeem stakes and collect rewards by December 20. FIFA World Cup group stage games enter the second round The second round…
The second round of group-stage games at the FIFA World Cup 2022 began today.

Users can still mint free OKX Football Cup NFTs until the FIFA 2022 Group stage ends

Get a chance to redeem stakes and collect rewards by December 20.
FIFA World Cup group stage games enter the second round
The second round of the group stage games for the FIFA World Cup in Qatar is underway. There were some big upsets in the first round, with Saudi Arabia winning against Argentina and Germany losing against Japan.
The second round of games started today and the chances for the host nation to qualify for the knockout round are virtually nonexistent.
You have the chance to get OKX Football NFTs for free as the world cup continues. A week ago, crypto exchange OKX announced the launch of its NFT Football Cup.
The OKX Football Cup is part of the crypto exchange's 'The OKX Football Festival,' and it is giving millions of fans around the world the opportunity to earn from a great prize pool.
With this competition, users can mint free NFTs of their preferred teams and use the NFTs to predict matches and stand a chance to win huge prizes.
NFT minting will end after the group stages
The free minting of the NFTs began on November 21st and will end on December 3rd. All users can participate in minting as long as there are group stages. Users must stake 0.01 for each mint. 01 ETH. You can create up to three teams prior to the group stage. With the first round of games producing some shocking results, you can look at the tables so far and partake in the OKX Football Cup.
Each match offers a fixed prize pool of 20,000 USDT. OKX revealed that it adds 10 USDT for every NFT minted, thus, growing the prize pool.
As an NFT owner, you will earn a share of the $20k in USDT if your team wins a match. However, when the teams draw, each side will share $10,000 in USDT
Participants will also have the option of redeeming their full stakes at the completion of the OKX Football Cup.
---
Share this article
---
Categories
BNB recovers above a critical level. Do we need to wait for another bullish push?
Binance token rose by 17% on Wednesday. The crypto exchange has announced the sale of HOOK tokens on Binance Launchpad. BNB eyes $330 next and is a buy on a retracement As Binance coin (BNB/USD) slipped below $266, it signalled the start of a bearish market. Since July, BNB has maintained the level and any…
Binance token rose by 17% on Wednesday.

The crypto exchange has announced the sale of HOOK tokens on Binance Launchpad.

BNB eyes $330 next and is a buy on a retracement
As Binance coin (BNB/USD) slipped below $266, it signalled the start of a bearish market. Since July, BNB has maintained the level and any decline below could have given bears complete control. However, it is now not the case as BNB trades at $295, well above the crucial level. It is possible that cryptocurrency may be heading for the next level. What happened then?
The gains in BNB happened after November 23 cryptocurrency news. BNB's price rose by 17% on the day after the exchange announced the Hooked Protocol (HOOK) token sale on Binance Launchpad. This is the 29th project launching on Binance Launchpad.
According to the announcement, the token sale will occur through a lottery and conclude on December 1. 25 million HOOK coins have been allocated to the launchpad, equivalent to 5% of the total supply.
This latest development comes as Binance continues to reassure users following the collapse of FTX. Binance announced Thursday that it would contribute $1 billion to help protect crypto-related firms. Binance has committed to increasing this amount if necessary and will look to include traditional financial institutions. This fund is the result of a series of measures that are designed to ensure users have sufficient reserves in case of a crypto confidence crisis.
BNB price action as token hits a 2-week high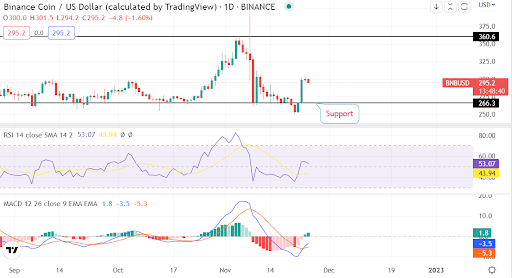 BNB rose from a low of around $250 to a 2-week high of $303. The $266 has been re-established as the immediate support for the cryptocurrency.
A bullish MACD crossover was initiated after the bullish push. The RSI also moved above its midpoint, which suggests that BNB has attracted a lot more buyers since the breakout. The cryptocurrency is consolidating ahead the next move.
Should you buy BNB now?
Buyers may not be done with BNB, with the area around $330 and $360 as the next target. However, if intending to buy BNB, wait for some correction to snap it lower. This consolidation could lead to a correction before the next bullish leg.
Where to buy BNB
eToro
eToro offers a wide range of cryptos, such as Bitcoin, XRP and others, alongside crypto/fiat and crypto/crypto pairs. eToro users have the ability to connect with, learn, copy, or get copied from other users.
Binance
Binance is one of the largest cryptocurrency exchanges in the world. It is better suited to more experienced investors and it offers a large number of cryptocurrencies to choose from, at over 600.
Binance is known for its low trading fees and multiple trading options. These include margin trading, peer-to-peer, spot trading, and margin trading.
---
Share this article
---
Categories
---
Tags
Bitcoin Mining Pool Btc.com Suffers $3 Million Cyberattack
A major cryptocurrency mining pool was attacked by hackers in early March, according to the pool's owner. The hackers stole digital assets worth $3 million from the pool and its clients.
Chinese Authorities Open Investigation into Crypto Mining Pool Hack
A subsidiary of Bit Mining, a coin minting company, was the victim in a hacking attack. The company released a press release. The affected entity is a leading bitcoin mining pool, Btc.com, which in the past week accounted for over 2.5% of the pool distribution and has a share exceeding 4% on annual basis.
According to the announcement published Monday, Dec. 26, the platform was hit on Dec. 3, 2022. As a result, $2.3 million worth of digital assets owned by the company and another $700,000 in asset value belonging to its clients were stolen.
The cyberattack has been reported to law enforcement in Shenzhen, China on Dec. 23. With the support of other agencies Bit Mining highlighted that the Chinese authorities are investigating the incident and collecting evidence.
The company will devote considerable efforts to recover the stolen digital assets.
The mining company stated that certain crypto assets of Btc.com were already secured. It pointed out that it had implemented technology to better intercept and block hackers after discovering the breach.
Btc.com is currently operating its business as usual, and apart from its digital asset services, its client fund services are unaffected.
Besides the top-10 mining pool, which provides mining services for bitcoin (BTC), ether (ETH), and litecoin (LTC), Bit Mining Limited also owns the mining device manufacturer Bee Computing and operates coin minting facilities.
Since the Chinese government cracked down on the industry in the spring of 2021, Bit Mining has sought to expand its activities in Kazakhstan, which has become a major crypto mining hotspot. In August of this year, the company announced it had secured a $9.3 million registered direct offering from institutional investors.
This story contains tags

What are your thoughts on the hacking attack against the bitcoin mining pool Btc.com? Please leave your thoughts in the comments below.
Image Credits: Shutterstock, Pixabay, Wiki Commons
Disclaimer: This article is for informational purposes only. This article is not intended to be a solicitation or offer to buy or sell any products or services. Bitcoin.com does not provide investment, tax, legal, or accounting advice. The author and the company are not responsible for any loss or damage resulting from or related to the use or reliance of any content, goods, or services in this article.