Cryptocurrency interest accounts make it possible to earn relatively passive income on digital assets like Bitcoin, Ethereum, and stablecoins like USDC and GUSD, and BlockFi vs. Coinbase is a frequent point of comparison.
BlockFi has been regarded as a standard in the cryptocurrency interest accounts industry, while Coinbase enjoys the strongest and most prominent reputation among the cryptocurrency exchanges.
Both platforms dabble in what the other specializes in– BlockFi offers the buying & selling of cryptocurrency, whereas Coinbase offers some modest interest-generating options for digital assets.
All things considered, which platform would be better for you cryptocurrency interest account requirements? This comparison will compare BlockFi and Coinbase. It will include information about security, interest rates, payouts, as well as security.
By this time, you will have a better understanding of BlockFi and Coinbase, as well as the niche for cryptocurrency interest accounts, and which options might be best for you.
For a full individual breakdown, check out our BlockFi review, Coinbase review, and an overview of the best cryptocurrency interest accounts.
| | | |
| --- | --- | --- |
| | | |
| Reviews | | |
| Site Type | Cryptocurrency Interest Account + Basic Exchange | Cryptocurrency Exchange + Basic Crypto Interest Account |
| Beginner Friendly? | Yes | Yes |
| Mobile App? | Yes | Yes |
| Buy/Deposit Methods | ACH, Wire Transfers, Crypto Deposits | Credit Card, Debit Card, Bank Transfer, Crypto Deposits |
| Sell/Withdrawal Methods | External Crypto Wallet, Bank Account | PayPal, Bank Transfer, Withdrawal to External Crypto Wallet |
| Available Cryptocurrencies | Bitcoin, Ethereum, Litecoin, Link + Stablecoins | Bitcoin, Ethereum, Litecoin, and 58 more |
| Company Launch | 2017 | 2012 |
| Website | | |
Companies Bios: How Do BlockFi and Coinbase Compare?
Coinbase was founded in 2012 by Brian Armstrong and Fred Ehrsam. The company is based in San Francisco, CA, and is the most popular cryptocurrency exchange in the United States; it has about 56 million registered users and has over $200 billion assets under management.
It recently IPOd on the New York Stock Exchange and has about a $45 billion market cap, trading under $COIN.
BlockFi was founded by Zac Prince and Flori Marquez in 2017. The company received seed investments from ConsenSys Ventures and SoFi in 2018. BlockFi was valued at $3 billion during its last round of funding, which was completed in March 2021.
BlockFi has around 225,000 users and roughly $15 billion in assets under management. Many notable people have invested in the company.
Winklevoss Capital

Bain Capital Ventures

Pomp Investments

Tiger Global

CMT Digital

Kenetic Capital
Feature #1: Crypto Interest Rates: BlockFi vs Coinbase APY?
Let me preface this section by stating that BlockFi is better than Coinbase for most APY. It was created specifically to be a crypto lending and borrowing platform. Coinbase was originally an exchange. However, it seems that Coinbase is becoming more open to the idea of creating its own cryptocurrency interest product. This section will be updated as needed in the future.
Bitcoin
BlockFi uses a tiered interest system for bitcoin. Users who have between 0 and 0.25 BTC earn 5% in APY. Those who have between 0.5 and 20 BTC earn 2% APY. And those with more than 20 BTC earn 0.5% APY.
Coinbase doesn't offer any interest for BTC stored on its platform as of the time of writing.
Ethereum
BlockFi offers 4.5% APY for a user's first 15 ETH, 2% on a user's first 1,000 ETH, and 0.5% APY on anything beyond 1,000 ETH.
Coinbase offers ETH2 staking with an interest rate of 6% APY. This requires that users lock their ETH into a smart contractual. Users cannot access any ETH deposited to this contract until ETH moves towards its Proof of Stake model or the smart contract ends. Coinbase also adds functionality to the contract, which allows users to trade staked ETH in exchange for other assets.
Stable Coins
BlockFi provides 8.6% APY for USDC, GUSD and PAX and 9.3% APY for USDT.
Coinbase is actually the creator of the stablecoin USDC, but it only offers 0. 15% on USDC. *sad trumpet sound
Alt Coins
BlockFi offers 5.5% APY for LTC and 4.5% for LINK.
Coinbase offers staking for Cosmos and Tezos. These rates can vary, but they are usually as high as 7.5% APY.
How Do BlockFi and Coinbase Make Money?
BlockFi borrows funds to make its money.
A BlockFi user can earn up to 5% APY when they deposit Bitcoins to the platform. However, the company charges around 9. 75% for a USD loan.
BlockFi, a cryptocurrency lending platform, is similar to a bank. BlockFi's loans can be secured by cryptocurrency users have transferred to the platform. It's typically necessary to maintain a 50% loan-to-value (LTV) ratio to keep a loan in good standing. For example, if you take out a loan of $10,000 with BlockFi, you need to keep at least $20,000 in crypto on the platform to maintain a 50% LTV ratio.
The risk here is that a sudden drop in crypto prices could cause the LTV ratio to drop below 50%, and you would have to deposit more crypto to return the loan to good standing. The company could liquidate your crypto at a low market time if you are unable to do so. This could result in a loss of your cryptocurrency holdings.
Coinbase is an exchange, and it primarily makes its money by charging transaction fees whenever users buy, sell, or trade cryptocurrency in its platform.
To get a better idea of how Coinbase makes money, we recommend browsing its SEC Form S-1, a document required of companies seeking to be listed on a national exchange via IPO. This document provides an abundance of information about Coinbase's business operations. BlockFi is a privately-held company whose revenue streams are less transparent.
Feature #2: BlockFi vs. Coinbase Payouts and Withdrawals
Interest on BlockFi accrues daily and is paid out monthly. Each month, the company offers one free crypto withdrawal and one free stable coin withdrawal. Each subsequent withdrawal within the same month is subject to fees.
Coinbase's staking services accrue interest daily. However, customers need to wait an initial period of 35 to 40 days before withdrawing any of that interest. After this period, users can withdraw their interest every three days.
Feature #3: Security: BlockFi vs. Coinbase
95% of BlockFi's funds are held in cold storage by its parent company, The Gemini Trust Company, which is regulated by the New York Department of Financial Services. The Gemini Trust Company also recently received recognition from Deloitte for its solid crypto storage practices.
Coinbase stores about 98% of its customers' assets in cold storage as well. BlockFi provides FDIC insurance for any USD funds up to $250,000, a federal protection offered to the vast majority of banks that hold U.S. Dollars.
However, neither BlockFi nor Coinbase offer FDIC insurance on their cryptocurrency assets, which is what you would have to deposit in order to utilize their interest accounts. Although both platforms take great measures to protect user funds they do not guarantee or cover deposits.
Users need to be careful about their security when using these platforms. Hackers can gain access to your account via your log-in details and possibly withdraw your funds. Transactions are usually irreversible because this is crypto.
However, BlockFi and Coinbase do offer additional measures to prevent this from happening, such as 2-factor authentication. 2FA is a standard layer of protection. It requires that users submit a confirmation code via text message or an app before any logging-in or withdrawals can be made.
BlockFi allows you to "whitelist" certain cryptocurrency addresses. This means that your cryptocurrency can only go to these addresses unless you go through a lengthy process of adding new addresses and identifying yourself.
Coinbase offers a vault feature where users can store cryptocurrency they don't plan on trading in "vaults". Cryptocurrency placed in a vault can't be removed for 72 hours after a withdrawal is initiated. This allows users to respond to any unauthorized withdrawal request and to secure their funds, if necessary.
Feature #4: Ease of Use
Both BlockFi, Coinbase are simple enough to use for beginners. These platforms are simple and do not require any crypto knowledge.
Each service has a mobile application that allows users to access their accounts from anywhere.
Both platforms allow fiat to be deposited.
BlockFi will require any fiat deposits to be automatically converted into GUSD, which immediately begins accruing interest at 8.6% APY per year. This service is free. Users can ACH deposit directly from fiat and claim up to a $250 bonus using this link.
Coinbase allows you to deposit fiat, with which you can directly buy USDC with no fee. You can purchase Bitcoin, Ethereum and other cryptocurrency with a transaction charge. Pro tip: use Coinbase Pro (formerly known as GDAX) if you do want to buy other cryptocurrencies- simply make an account on Coinbase, deposit fiat, make an account on Coinbase Pro (it's free), transfer the fiat, and buy a wider variety of crypto for much lower fees.
Feature #5: Standout Features
BlockFi's standout feature is its upcoming cryptocurrency credit card. The card will give users 1.5% back in bitcoin on all purchases, although it is still being released.
Coinbase's standout feature is its companion service Coinbase Pro, which is intended for more experienced cryptocurrency traders. It allows users to access additional cryptocurrency tokens, and offers lower trade fees.
The Court of Public Opinion: BlockFi vs. Coinbase Reddit
Reddit users tend to view BlockFi and Coinbase more as complements than direct competitors.
BlockFi is an exchange that allows users to purchase a few cryptocurrencies and stablecoins. BlockFi was created to allow users to earn interest in cryptocurrency and borrow USD to fund their digital assets.
Coinbase, on the other hand, is primarily a platform that people use to purchase cryptocurrency. Although it offers some staking opportunities, it doesn't offer enough interest in Bitcoin or other stablecoins for BlockFi- to be competitive.
Many people have asked Reddit for help in deciding whether to use BlockFi or Coinbase. Many people have suggested that they buy crypto on Coinbase, then transfer it to their BlockFi accounts if they don't intend on selling or trading it soon.
Customer Support
BlockFi has an online FAQ page, an AI-powered chatbot, and live phone support from 9: 30 AM – 5 PM ET Monday through Friday.
Coinbase also has an online FAQ page. The company does not offer live phone support. Instead, it gives users the option to submit an email request when they need help with something.
Can You Trust BlockFi and Coinbase?
BlockFi is one of the most trusted names within the cryptocurrency industry.
Both are home to significant venture capital firms. Coinbase was the first cryptocurrency unicorn valued at over $1B to go public.
BlockFi's security practices have earned it a stamp of approval from Deloitte and the New York Department of Financial Services.
Coinbase offers users up to $250,000 in FDIC insurance on any USD funds that they store on the platform. The company also says that it holds less than 2% of its customers' funds online with the rest being placed in cold storage.
Coinbase says that it maintains insurance for the cryptocurrency that it holds online as well. The company will either keep your cryptocurrency offline, where hackers won't be able to reach it, or they will make sure that your cryptocurrency is online and insured. This makes Coinbase extremely trustworthy.
BlockFi vs. Coinbase:
Which is the Better Crypto Interest Account?
BlockFi offers better cryptocurrency interest accounts than Coinbase. It offers higher interest on Bitcoin and Ethereum as well as stablecoins such USDC and GUSD. There are also a number of other altcoins.
To be fair, Coinbase doesn't actually offer cryptocurrency lending or interest accounts platforms. BlockFi, however, is a better choice for this particular use case. Coinbase has some features that enable depositors to make passive income from their deposits.
We think that Coinbase might offer higher interest rates for cryptocurrency in the future. However, this is only our educated guess. Coinbase is a more robust trading platform than BlockFi, with a greater variety of cryptocurrency and industry-leading security measures.
Most people will benefit from using both Coinbase and BlockFi rather than just one or the other- Coinbase Pro to buy the cryptocurrency (as described above) and then BlocKFi for its interest account.
BlockFi, Coinbase offer sign-up bonuses:
BlockFi's sign-up bonuses

are staggered by deposit amount: as low as $25 will get you $15 in BTC, and $20,000+ gets $250.

Coinbase offers a flat $10

when you buy or sell $100 on the platform.
Mint-free OKX Football Cup NFTs for group stage games enter the second round
The second round of group-stage games at the FIFA World Cup 2022 began today. Users can still mint free OKX Football Cup NFTs until the FIFA 2022 Group stage ends Get a chance to redeem stakes and collect rewards by December 20. FIFA World Cup group stage games enter the second round The second round…
The second round of group-stage games at the FIFA World Cup 2022 began today.

Users can still mint free OKX Football Cup NFTs until the FIFA 2022 Group stage ends

Get a chance to redeem stakes and collect rewards by December 20.
FIFA World Cup group stage games enter the second round
The second round of the group stage games for the FIFA World Cup in Qatar is underway. There were some big upsets in the first round, with Saudi Arabia winning against Argentina and Germany losing against Japan.
The second round of games started today and the chances for the host nation to qualify for the knockout round are virtually nonexistent.
You have the chance to get OKX Football NFTs for free as the world cup continues. A week ago, crypto exchange OKX announced the launch of its NFT Football Cup.
The OKX Football Cup is part of the crypto exchange's 'The OKX Football Festival,' and it is giving millions of fans around the world the opportunity to earn from a great prize pool.
With this competition, users can mint free NFTs of their preferred teams and use the NFTs to predict matches and stand a chance to win huge prizes.
NFT minting will end after the group stages
The free minting of the NFTs began on November 21st and will end on December 3rd. All users can participate in minting as long as there are group stages. Users must stake 0.01 for each mint. 01 ETH. You can create up to three teams prior to the group stage. With the first round of games producing some shocking results, you can look at the tables so far and partake in the OKX Football Cup.
Each match offers a fixed prize pool of 20,000 USDT. OKX revealed that it adds 10 USDT for every NFT minted, thus, growing the prize pool.
As an NFT owner, you will earn a share of the $20k in USDT if your team wins a match. However, when the teams draw, each side will share $10,000 in USDT
Participants will also have the option of redeeming their full stakes at the completion of the OKX Football Cup.
---
Share this article
---
Categories
BNB recovers above a critical level. Do we need to wait for another bullish push?
Binance token rose by 17% on Wednesday. The crypto exchange has announced the sale of HOOK tokens on Binance Launchpad. BNB eyes $330 next and is a buy on a retracement As Binance coin (BNB/USD) slipped below $266, it signalled the start of a bearish market. Since July, BNB has maintained the level and any…
Binance token rose by 17% on Wednesday.

The crypto exchange has announced the sale of HOOK tokens on Binance Launchpad.

BNB eyes $330 next and is a buy on a retracement
As Binance coin (BNB/USD) slipped below $266, it signalled the start of a bearish market. Since July, BNB has maintained the level and any decline below could have given bears complete control. However, it is now not the case as BNB trades at $295, well above the crucial level. It is possible that cryptocurrency may be heading for the next level. What happened then?
The gains in BNB happened after November 23 cryptocurrency news. BNB's price rose by 17% on the day after the exchange announced the Hooked Protocol (HOOK) token sale on Binance Launchpad. This is the 29th project launching on Binance Launchpad.
According to the announcement, the token sale will occur through a lottery and conclude on December 1. 25 million HOOK coins have been allocated to the launchpad, equivalent to 5% of the total supply.
This latest development comes as Binance continues to reassure users following the collapse of FTX. Binance announced Thursday that it would contribute $1 billion to help protect crypto-related firms. Binance has committed to increasing this amount if necessary and will look to include traditional financial institutions. This fund is the result of a series of measures that are designed to ensure users have sufficient reserves in case of a crypto confidence crisis.
BNB price action as token hits a 2-week high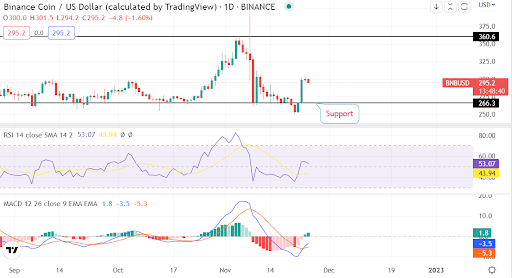 BNB rose from a low of around $250 to a 2-week high of $303. The $266 has been re-established as the immediate support for the cryptocurrency.
A bullish MACD crossover was initiated after the bullish push. The RSI also moved above its midpoint, which suggests that BNB has attracted a lot more buyers since the breakout. The cryptocurrency is consolidating ahead the next move.
Should you buy BNB now?
Buyers may not be done with BNB, with the area around $330 and $360 as the next target. However, if intending to buy BNB, wait for some correction to snap it lower. This consolidation could lead to a correction before the next bullish leg.
Where to buy BNB
eToro
eToro offers a wide range of cryptos, such as Bitcoin, XRP and others, alongside crypto/fiat and crypto/crypto pairs. eToro users have the ability to connect with, learn, copy, or get copied from other users.
Binance
Binance is one of the largest cryptocurrency exchanges in the world. It is better suited to more experienced investors and it offers a large number of cryptocurrencies to choose from, at over 600.
Binance is known for its low trading fees and multiple trading options. These include margin trading, peer-to-peer, spot trading, and margin trading.
---
Share this article
---
Categories
---
Tags
Bitcoin Mining Pool Btc.com Suffers $3 Million Cyberattack
A major cryptocurrency mining pool was attacked by hackers in early March, according to the pool's owner. The hackers stole digital assets worth $3 million from the pool and its clients.
Chinese Authorities Open Investigation into Crypto Mining Pool Hack
A subsidiary of Bit Mining, a coin minting company, was the victim in a hacking attack. The company released a press release. The affected entity is a leading bitcoin mining pool, Btc.com, which in the past week accounted for over 2.5% of the pool distribution and has a share exceeding 4% on annual basis.
According to the announcement published Monday, Dec. 26, the platform was hit on Dec. 3, 2022. As a result, $2.3 million worth of digital assets owned by the company and another $700,000 in asset value belonging to its clients were stolen.
The cyberattack has been reported to law enforcement in Shenzhen, China on Dec. 23. With the support of other agencies Bit Mining highlighted that the Chinese authorities are investigating the incident and collecting evidence.
The company will devote considerable efforts to recover the stolen digital assets.
The mining company stated that certain crypto assets of Btc.com were already secured. It pointed out that it had implemented technology to better intercept and block hackers after discovering the breach.
Btc.com is currently operating its business as usual, and apart from its digital asset services, its client fund services are unaffected.
Besides the top-10 mining pool, which provides mining services for bitcoin (BTC), ether (ETH), and litecoin (LTC), Bit Mining Limited also owns the mining device manufacturer Bee Computing and operates coin minting facilities.
Since the Chinese government cracked down on the industry in the spring of 2021, Bit Mining has sought to expand its activities in Kazakhstan, which has become a major crypto mining hotspot. In August of this year, the company announced it had secured a $9.3 million registered direct offering from institutional investors.
This story contains tags

What are your thoughts on the hacking attack against the bitcoin mining pool Btc.com? Please leave your thoughts in the comments below.
Image Credits: Shutterstock, Pixabay, Wiki Commons
Disclaimer: This article is for informational purposes only. This article is not intended to be a solicitation or offer to buy or sell any products or services. Bitcoin.com does not provide investment, tax, legal, or accounting advice. The author and the company are not responsible for any loss or damage resulting from or related to the use or reliance of any content, goods, or services in this article.