Hodlnaut Review: Is Hodlnaut Legit and Worth Your Time?
 Hodlnaut is a Singapore-based cryptocurrency interest account platform that offers compound interest of 10% for stablecoin assets and 6% for Bitcoin. 
If you are just entering your crypto interest account search, welcome to a world where cryptocurrency holders can automatically and passively accrue interest on their digital assets. 
Hodlnaut is a relative newcomer to the cryptocurrency interest account block, but it offers some of the industry's more competitive rates. 
So, you may be wondering, is Hodlnaut legit? It's a newer platform with a smaller team with less funding than industry pioneers BlockFi and Celsius. Yet, it's in the conversation as a top cryptocurrency interest account platform. 
The following Hodlnaut review examines its interest account product, security practices, usability, team community trust, as well as an exclusive interview with a representative from the Hodlnaut team.
Let's dig in.
Hodlnaut Review: Quick Summary
Hodlnaut is a Singapore-based company founded in 2019. It is available worldwide, excluding locations prohibited by Hodlnaut Policy or Sanction Laws.
Holdnaut derives its name from the crypto slang HODL (Hold On for Dear Life), which is an enthusiastic expression that refers to keeping your digital assets rather than selling them, regardless of the volatility of the market. The latter part of the company name is in the motif of "astronaut." 
The platform has accumulated about $250M in assets under its management from over 5,000 users, according to its site. 
Hodlnaut has raised about $100,000 in funding from one pre-seed funding round with Antler, a Singaporean startup accelerator and venture capitalist firm.
This is distinctly different from platforms like BlockFi, which has raised north of $500M. That being said, Hodlnaut seems to have narrowed down on a similar business model, just with drastically less funding necessary. 
There is no minimum balance to qualify for crypto interest. Hodlnaut offers: 
6.2% APY on BTC
6.7% APY on ETH
10.5% APY on stablecoins.
Hodlnaut's Token Swap lets users

exchange tokens

directly in the app e.g, BTC to ETH

Deposits are free and users can withdraw anytime. However, there are withdrawal fees and a daily withdrawal limit of 100 BTC.
Signing up for Hodlnaut is a fairly straightforward process, with the typical KYC requirements. 
CoinCentral readers can get a $20 sign-up bonus when they deposit a minimum of $1,000 on Hodlnaut. 
The Hodlnaut Team
Hodlnaut was founded by CEO Juntao Zhu and CTO Simon Lee. The duo previously founded Cypher Forge, a cryptocurrency trade execution platform. 
Zhu spent over three years as an analyst and developer with the Swiss wealth management firm Credit Suisse.
Lee spent over three years in engineering management roles. The two founders hold a combined nine years of experience in software development, finance, and engineering. 
Hodlnaut Review and Interest Rates: How Does Hodlnaut Compare?
Hodlnaut supports six cryptocurrencies: BTC, ETH, DAI, USDC, USDT, and WBTC, offering between 6.2% and 10.5% APY.
Although the number of assets it supports is much less than other crypto interest accounts (Gemini or Celsius support over 30+ tokens, Hodlnaut still offers very competitive rates with no minimum balances or rate caps. 
"We just added support for WBTC recently, where users can also wrap and unwrap their Bitcoin using our token swap feature," says CEO Juntao Zhu. "We've played with the idea of adding BNB and also DOGE as well but nothing is planned yet as we're focusing on other feature launches such as peer-to-peer fiat on-ramp, and getting our mobile apps out."
Hodnaut's rate beat both Celsius and BlockFi for stablecoins by about 2% APY. 
Users may also enjoy the fact that Hodlnaut doesn't cap rates. For example, competitor BlockFi reduces its rates on BTC from 4% to 1.5% after 0.25 BTC, whereas Hodlnaut offers 6.2% regardless of the amount.
So, it's a newer platform, but it offers better rates than its more established competitors– with a smaller team and less funding. How does it pull this off? 
How Does Hodlnaut Make Money?
Like most other crypto interest accounts, Hodlnaut uses your assets as collateral to offer loans to corporate creditors, earning off the difference between the interest it pays users and what it charges to offer loans to its institutional borrowers. 
"We have incredibly stringent capital requirements in place of our counterparties," comments Zhu. "In any case, we're very selective with whom we lend to. We only lend to corporate entities with good credit scores and we will verify this with them during the onboarding process, and the Loan-to-Value (LTV) Ratio of our loans is usually 70% or lower."
The platform also makes money by earning interest from lending its assets to decentralized protocols.
Are Your Funds Safe With Hodlnaut?
Hodlnaut is based in Singapore, a fact that tends to introduce some unfamiliarity to a U.S. audience. 
For one, no digital assets in any cryptocurrency interest account are FDIC insured, so one of the main protections for U.S. depositors is completely absent from this industry at large. Singapore also does not offer FDIC-equivalent federal protection for cryptocurrency accounts. 
Your funds on Hodlnaut, or any cryptocurrency platform, are never entirely risk-free. 
However, Hodlnaut takes some steps to mitigate this risk.
Hodlnaut Review: Security 
The platform requires that you set up 2FA before you can make a withdrawal, which helps keep accounts secure and prevent unauthorized withdrawals. Hodlnaut uses industry-standard encryption and other safety regulations to ensure that assets and information on its platform are protected. 
As of this writing, Hodlnaut has never been hacked.
Hodlnaut's primary custodian is Fireblocks, a leading digital asset custody solution that employs various methods to ensure the safety of assets. Fireblocks holds assets in a mix of offline cold storage and insured hot wallets; all user deposits are never in the same place at once. 
Hodlnaut gives you the option of purchasing insurance on your crypto via a partnership with European company Nexus Mutual. 
That's big, especially in the crypto interest space were deployed or loaned assets are often uninsured if they're kept in hot wallets. Since these platforms are constantly lending and receiving deposits, the funds are in motion, which makes them very difficult to insure. The Hodlnaut insurance with Nexus currently stands at $22 million and is anticipated to grow as both companies gain traction. 
Hodlnaut outlines its procedures in the case of a borrower default.
Hodlnaut is certified by the Singapore Fintech Association, which is recognized by the Monetary Authority of Singapore. However, at the time of this writing Hodlnaut is undergoing a license application, and aims to become the first regulated entity in Singapore's crypto borrowing and lending space. 
With over $250M in AUM, Hodlnaut will inevitably need to demonstrate explicit certification in its ability to be responsible with user funds. As the platform continues to grow, it's likely we will see more developments in this area. 
Hodlnaut Review: Ease of Use & Customer service
The platform is currently accessible only on web and intends to release an IOS application in mid-2021. 
Reddit reviews of Hodlnaut tend to skew positive for customer support, citing the promptness of the team as a distinct advantage. Hodlnaut support can be reached via a support ticket or at [email protected] 
Hodlnaut maintains an FAQ section on its website for the lower-hanging fruit.  
Hodlnaut Review Final Thoughts: Is Hodlnaut Legit?
Overall, Hodlnaut offers a pretty competitive product in an increasingly competitive industry. 
On one hand, Hodlnaut is a fairly new company with a single bootstrapped fundraise based in Singapore. This is a drastically different proposition than U.S.-based companies like Celsius and BlockFi, which have established themselves as the blue-chip of CeFi. That being said, Hodlnaut's business model doesn't seem inherently riskier than any other crypto interest account provider. 
However, some users may find value in the scrappiness and nimbleness of a newer more light-footed team. As the learning curve for DeFi becomes gradually less steep, platforms like Hodlnaut are positioned to take on challenges that their more regulated and established competitors may not be able to. This can be advantageous provided your funds are safe on Hodlnaut, which the limited time span we have available indicates they are. 
If your research simply comes down to APY, Hodlnaut offers industry-leading rates (6.2% on BTC, 6.7% on ETH, and 10.2% on stablecoins). It offers above-average customer support and has been proactive towards insuring assets, even when they're deployed. 
Hodlnaut also supports coin-to-coin trades and unlimited withdrawals at any time (at a fee).
At this writing, the platform only supports six tokens and is only available via the web, but we're interested to see how Hodlnaut evolves.
CoinCentral readers can get $20 dollar equivalent as a signup bonus on your first deposit of $1000 or more. 
Mint-free OKX Football Cup NFTs for group stage games enter the second round
The second round of group-stage games at the FIFA World Cup 2022 began today. Users can still mint free OKX Football Cup NFTs until the FIFA 2022 Group stage ends Get a chance to redeem stakes and collect rewards by December 20. FIFA World Cup group stage games enter the second round The second round…
The second round of group-stage games at the FIFA World Cup 2022 began today.

Users can still mint free OKX Football Cup NFTs until the FIFA 2022 Group stage ends

Get a chance to redeem stakes and collect rewards by December 20.
FIFA World Cup group stage games enter the second round
The second round of the group stage games for the FIFA World Cup in Qatar is underway. There were some big upsets in the first round, with Saudi Arabia winning against Argentina and Germany losing against Japan.
The second round of games started today and the chances for the host nation to qualify for the knockout round are virtually nonexistent.
You have the chance to get OKX Football NFTs for free as the world cup continues. A week ago, crypto exchange OKX announced the launch of its NFT Football Cup.
The OKX Football Cup is part of the crypto exchange's 'The OKX Football Festival,' and it is giving millions of fans around the world the opportunity to earn from a great prize pool.
With this competition, users can mint free NFTs of their preferred teams and use the NFTs to predict matches and stand a chance to win huge prizes.
NFT minting will end after the group stages
The free minting of the NFTs began on November 21st and will end on December 3rd. All users can participate in minting as long as there are group stages. Users must stake 0.01 for each mint. 01 ETH. You can create up to three teams prior to the group stage. With the first round of games producing some shocking results, you can look at the tables so far and partake in the OKX Football Cup.
Each match offers a fixed prize pool of 20,000 USDT. OKX revealed that it adds 10 USDT for every NFT minted, thus, growing the prize pool.
As an NFT owner, you will earn a share of the $20k in USDT if your team wins a match. However, when the teams draw, each side will share $10,000 in USDT
Participants will also have the option of redeeming their full stakes at the completion of the OKX Football Cup.
---
Share this article
---
Categories
BNB recovers above a critical level. Do we need to wait for another bullish push?
Binance token rose by 17% on Wednesday. The crypto exchange has announced the sale of HOOK tokens on Binance Launchpad. BNB eyes $330 next and is a buy on a retracement As Binance coin (BNB/USD) slipped below $266, it signalled the start of a bearish market. Since July, BNB has maintained the level and any…
Binance token rose by 17% on Wednesday.

The crypto exchange has announced the sale of HOOK tokens on Binance Launchpad.

BNB eyes $330 next and is a buy on a retracement
As Binance coin (BNB/USD) slipped below $266, it signalled the start of a bearish market. Since July, BNB has maintained the level and any decline below could have given bears complete control. However, it is now not the case as BNB trades at $295, well above the crucial level. It is possible that cryptocurrency may be heading for the next level. What happened then?
The gains in BNB happened after November 23 cryptocurrency news. BNB's price rose by 17% on the day after the exchange announced the Hooked Protocol (HOOK) token sale on Binance Launchpad. This is the 29th project launching on Binance Launchpad.
According to the announcement, the token sale will occur through a lottery and conclude on December 1. 25 million HOOK coins have been allocated to the launchpad, equivalent to 5% of the total supply.
This latest development comes as Binance continues to reassure users following the collapse of FTX. Binance announced Thursday that it would contribute $1 billion to help protect crypto-related firms. Binance has committed to increasing this amount if necessary and will look to include traditional financial institutions. This fund is the result of a series of measures that are designed to ensure users have sufficient reserves in case of a crypto confidence crisis.
BNB price action as token hits a 2-week high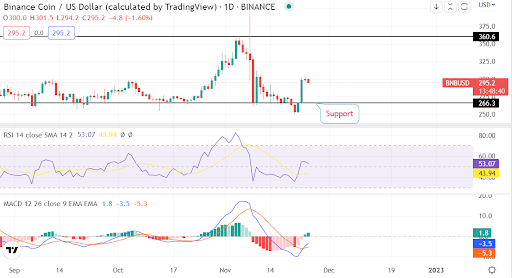 BNB rose from a low of around $250 to a 2-week high of $303. The $266 has been re-established as the immediate support for the cryptocurrency.
A bullish MACD crossover was initiated after the bullish push. The RSI also moved above its midpoint, which suggests that BNB has attracted a lot more buyers since the breakout. The cryptocurrency is consolidating ahead the next move.
Should you buy BNB now?
Buyers may not be done with BNB, with the area around $330 and $360 as the next target. However, if intending to buy BNB, wait for some correction to snap it lower. This consolidation could lead to a correction before the next bullish leg.
Where to buy BNB
eToro
eToro offers a wide range of cryptos, such as Bitcoin, XRP and others, alongside crypto/fiat and crypto/crypto pairs. eToro users have the ability to connect with, learn, copy, or get copied from other users.
Binance
Binance is one of the largest cryptocurrency exchanges in the world. It is better suited to more experienced investors and it offers a large number of cryptocurrencies to choose from, at over 600.
Binance is known for its low trading fees and multiple trading options. These include margin trading, peer-to-peer, spot trading, and margin trading.
---
Share this article
---
Categories
---
Tags
Bitcoin Mining Pool Btc.com Suffers $3 Million Cyberattack
A major cryptocurrency mining pool was attacked by hackers in early March, according to the pool's owner. The hackers stole digital assets worth $3 million from the pool and its clients.
Chinese Authorities Open Investigation into Crypto Mining Pool Hack
A subsidiary of Bit Mining, a coin minting company, was the victim in a hacking attack. The company released a press release. The affected entity is a leading bitcoin mining pool, Btc.com, which in the past week accounted for over 2.5% of the pool distribution and has a share exceeding 4% on annual basis.
According to the announcement published Monday, Dec. 26, the platform was hit on Dec. 3, 2022. As a result, $2.3 million worth of digital assets owned by the company and another $700,000 in asset value belonging to its clients were stolen.
The cyberattack has been reported to law enforcement in Shenzhen, China on Dec. 23. With the support of other agencies Bit Mining highlighted that the Chinese authorities are investigating the incident and collecting evidence.
The company will devote considerable efforts to recover the stolen digital assets.
The mining company stated that certain crypto assets of Btc.com were already secured. It pointed out that it had implemented technology to better intercept and block hackers after discovering the breach.
Btc.com is currently operating its business as usual, and apart from its digital asset services, its client fund services are unaffected.
Besides the top-10 mining pool, which provides mining services for bitcoin (BTC), ether (ETH), and litecoin (LTC), Bit Mining Limited also owns the mining device manufacturer Bee Computing and operates coin minting facilities.
Since the Chinese government cracked down on the industry in the spring of 2021, Bit Mining has sought to expand its activities in Kazakhstan, which has become a major crypto mining hotspot. In August of this year, the company announced it had secured a $9.3 million registered direct offering from institutional investors.
This story contains tags

What are your thoughts on the hacking attack against the bitcoin mining pool Btc.com? Please leave your thoughts in the comments below.
Image Credits: Shutterstock, Pixabay, Wiki Commons
Disclaimer: This article is for informational purposes only. This article is not intended to be a solicitation or offer to buy or sell any products or services. Bitcoin.com does not provide investment, tax, legal, or accounting advice. The author and the company are not responsible for any loss or damage resulting from or related to the use or reliance of any content, goods, or services in this article.