Weekly Report: Coinbase closes major deals beyond the blockchain space
On Tuesday ProShares' Bitcoin Strategy Exchange traded Fund (ETF), the first-ever US-based ETF, was launched. It trades under the ticker BITO. The launch and its seismic reception created upward momentum, which saw the top cryptocurrencies [Bitcoin & Ethereum], surpass their previous highs and reach new heights during Thursday's trading session . Aside from the markets,…
On Tuesday ProShares' Bitcoin Strategy Exchange traded Fund (ETF), the first-ever US-based ETF, was launched. It trades under the ticker BITO. The launch and its seismic reception created upward momentum, which saw the top cryptocurrencies [Bitcoin & Ethereum], surpass their previous highs and reach new heights during Thursday's trading session
.
Aside from the markets, significant developments were seen in several crypto-oriented entities like Coinbase and Chainalysis. This week's headlines include
Square may build bitcoin miner, chief executive discloses
Square CEO Jack Dorsey suggested last Friday that Square might be joining the bitcoin mining industry. He announced plans to create a miner that would open-source for all users and businesses worldwide. In a series tweets, Dorsey stated that the custom silicon-based system would incorporate community input just like Square's hardware Bitcoin wallet.
The Twitter chief stated that his company will use this project to make Bitcoin mining more accessible to as many people possible. Dorsey pointed out that crypto mining is still dominated by large-scale investors who have substantial capital backing to support their endeavors.
The Square Jesse Dorogusker, who is the head of hardware at Square, proposed that the team work on the project. He will be responsible for studying the technical hurdles necessary to make it a reality. Dorsey, who has shown a dedication to Bitcoin in the past, said that he would quit his positions at Square and Twitter to devote himself to the digital asset.
Grayscale files to convert its Bitcoin Trust to Bitcoin ETF
Grayscale, a digital asset manager, has applied to the US regulators for a change in its Grayscale Bitcoin Trust (GBTC), into a Bitcoin Spot Exchange Trade Fund. On Tuesday, the world's largest crypto asset manager announced the change. Grayscale Investments Vice President and Head Of Legal Craig Salm expressed delight at Proshares Bitcoin Futures ETF being listed on a trading platform; the NYSE.
The executive explained that his company's filing had set the timer for a 240-day by which the SEC would approve or deny the offering. Salm stated that Bitcoin is an asset that will be here to stay, and that as investors access the coin increases, it will become more popular.
Grayscale Investments' Global Head of ETFs Dave LaValle stated that they believe regulators are still open to future-based ETFs. He explained that this means that financial watchdogs should be able to accept ETFs that offer spot pricing exposure for these assets. Grayscale currently holds approximately 3. 44% is the current largest Bitcoin trust holding approximately 3.
Chainalysis joins the Bitcoin bandwagon
Chainalysis added an undisclosed amount Bitcoin to its books. The blockchain data solutions company revealed its plans via a blog post Tuesday. It stated that it would use the New York Digital Investment Group's (NYDIG), brokerage services, and would also provide custody.
Michael Gronager from Chainalysis explained that although this crypto purchase was unique, it wouldn't be the first. The company plans to invest in other digital assets in future. Gronager stated that Chainalysis is still committed to building trust in cryptocurrency and that the company will be adding Bitcoin to its investment portfolio.
Chainalysis is one of the many corporate companies that have added crypto to their portfolio. Significantly the largest, even by the numbers, Michael Saylor's MicroStrategy holds more than 114,000 Bitcoin. The top five publicly held BTC companies include Square, Galaxy Digital and Voyager Digital.
Coinbase partners with Facebook and the NBA
The National Basketball Association (NBA), announced Tuesday that it had reached a deal with Coinbase. Coinbase will be the official cryptocurrency partner of the NBA. This new venture would see Coinbase featured in the NBA 2K League and USA Basketball as well as the NBA G League and the WNBA.
It wasn't clear, however, if the partnership meant fans could use cryptocurrency to purchase matchday tickets or merchandise from their favorite teams, as Mark Cubans' Maverick Texas has done.
Coinbase confirmed that it will be working with Facebook to launch the digital wallet Novi, a social network company. Coinbase will hold crypto while Diem (Novi's host company), plans to manage the pilot program. This launch will also adopt the Pax Dollar stablecoin to be the token of preference, but Facebook plans eventually to replace it with Diem once it has received the regulatory approvals.
Five US senators wrote to Mark Zuckerberg after the announcement asking him to stop activities related to the digital wallet. Senators claimed that Facebook was not trustworthy to manage a payment system, citing past abuse. Diem responded to the letter, explaining that the company is not linked to Facebook and instead functions independently with representatives of the social media company.
Huobi gets go-ahead to trade crypto derivatives
A Monday statement revealed that Huobi was approved by Hong Kong's Financial Services Agency to register as a Type 1 Financial Instruments Business. This will allow the exchange to trade in cryptocurrency derivatives. Huobi stated that the approval allows it to create derivatives and facilitate trading.
Haiteng Chen, the CEO of the exchange, stated that the new license would allow for expansion of services to customers and help the company move into the next phase. Haiteng Chen, the CEO of the exchange, explained the importance of this type license by stating that it allows the company to offer more services than spot trading.
The FSA is well-known for its strict regulatory requirements. It has established regulations regarding cryptocurrencies. All crypto exchanges must adhere to the same rules that govern financial institutions. Compulsory registration is required for all exchanges to be registered as type I financial instrument businesses. The FSA requires that all crypto tokens must be approved before being listed on any exchange in the country.
Mint-free OKX Football Cup NFTs for group stage games enter the second round
The second round of group-stage games at the FIFA World Cup 2022 began today. Users can still mint free OKX Football Cup NFTs until the FIFA 2022 Group stage ends Get a chance to redeem stakes and collect rewards by December 20. FIFA World Cup group stage games enter the second round The second round…
The second round of group-stage games at the FIFA World Cup 2022 began today.

Users can still mint free OKX Football Cup NFTs until the FIFA 2022 Group stage ends

Get a chance to redeem stakes and collect rewards by December 20.
FIFA World Cup group stage games enter the second round
The second round of the group stage games for the FIFA World Cup in Qatar is underway. There were some big upsets in the first round, with Saudi Arabia winning against Argentina and Germany losing against Japan.
The second round of games started today and the chances for the host nation to qualify for the knockout round are virtually nonexistent.
You have the chance to get OKX Football NFTs for free as the world cup continues. A week ago, crypto exchange OKX announced the launch of its NFT Football Cup.
The OKX Football Cup is part of the crypto exchange's 'The OKX Football Festival,' and it is giving millions of fans around the world the opportunity to earn from a great prize pool.
With this competition, users can mint free NFTs of their preferred teams and use the NFTs to predict matches and stand a chance to win huge prizes.
NFT minting will end after the group stages
The free minting of the NFTs began on November 21st and will end on December 3rd. All users can participate in minting as long as there are group stages. Users must stake 0.01 for each mint. 01 ETH. You can create up to three teams prior to the group stage. With the first round of games producing some shocking results, you can look at the tables so far and partake in the OKX Football Cup.
Each match offers a fixed prize pool of 20,000 USDT. OKX revealed that it adds 10 USDT for every NFT minted, thus, growing the prize pool.
As an NFT owner, you will earn a share of the $20k in USDT if your team wins a match. However, when the teams draw, each side will share $10,000 in USDT
Participants will also have the option of redeeming their full stakes at the completion of the OKX Football Cup.
---
Share this article
---
Categories
BNB recovers above a critical level. Do we need to wait for another bullish push?
Binance token rose by 17% on Wednesday. The crypto exchange has announced the sale of HOOK tokens on Binance Launchpad. BNB eyes $330 next and is a buy on a retracement As Binance coin (BNB/USD) slipped below $266, it signalled the start of a bearish market. Since July, BNB has maintained the level and any…
Binance token rose by 17% on Wednesday.

The crypto exchange has announced the sale of HOOK tokens on Binance Launchpad.

BNB eyes $330 next and is a buy on a retracement
As Binance coin (BNB/USD) slipped below $266, it signalled the start of a bearish market. Since July, BNB has maintained the level and any decline below could have given bears complete control. However, it is now not the case as BNB trades at $295, well above the crucial level. It is possible that cryptocurrency may be heading for the next level. What happened then?
The gains in BNB happened after November 23 cryptocurrency news. BNB's price rose by 17% on the day after the exchange announced the Hooked Protocol (HOOK) token sale on Binance Launchpad. This is the 29th project launching on Binance Launchpad.
According to the announcement, the token sale will occur through a lottery and conclude on December 1. 25 million HOOK coins have been allocated to the launchpad, equivalent to 5% of the total supply.
This latest development comes as Binance continues to reassure users following the collapse of FTX. Binance announced Thursday that it would contribute $1 billion to help protect crypto-related firms. Binance has committed to increasing this amount if necessary and will look to include traditional financial institutions. This fund is the result of a series of measures that are designed to ensure users have sufficient reserves in case of a crypto confidence crisis.
BNB price action as token hits a 2-week high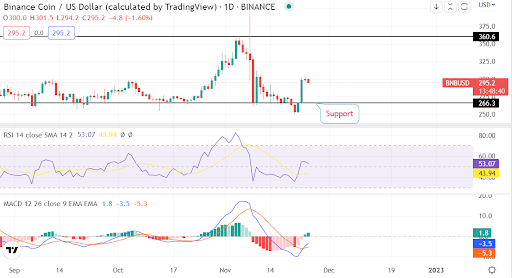 BNB rose from a low of around $250 to a 2-week high of $303. The $266 has been re-established as the immediate support for the cryptocurrency.
A bullish MACD crossover was initiated after the bullish push. The RSI also moved above its midpoint, which suggests that BNB has attracted a lot more buyers since the breakout. The cryptocurrency is consolidating ahead the next move.
Should you buy BNB now?
Buyers may not be done with BNB, with the area around $330 and $360 as the next target. However, if intending to buy BNB, wait for some correction to snap it lower. This consolidation could lead to a correction before the next bullish leg.
Where to buy BNB
eToro
eToro offers a wide range of cryptos, such as Bitcoin, XRP and others, alongside crypto/fiat and crypto/crypto pairs. eToro users have the ability to connect with, learn, copy, or get copied from other users.
Binance
Binance is one of the largest cryptocurrency exchanges in the world. It is better suited to more experienced investors and it offers a large number of cryptocurrencies to choose from, at over 600.
Binance is known for its low trading fees and multiple trading options. These include margin trading, peer-to-peer, spot trading, and margin trading.
---
Share this article
---
Categories
---
Tags
Bitcoin Mining Pool Btc.com Suffers $3 Million Cyberattack
A major cryptocurrency mining pool was attacked by hackers in early March, according to the pool's owner. The hackers stole digital assets worth $3 million from the pool and its clients.
Chinese Authorities Open Investigation into Crypto Mining Pool Hack
A subsidiary of Bit Mining, a coin minting company, was the victim in a hacking attack. The company released a press release. The affected entity is a leading bitcoin mining pool, Btc.com, which in the past week accounted for over 2.5% of the pool distribution and has a share exceeding 4% on annual basis.
According to the announcement published Monday, Dec. 26, the platform was hit on Dec. 3, 2022. As a result, $2.3 million worth of digital assets owned by the company and another $700,000 in asset value belonging to its clients were stolen.
The cyberattack has been reported to law enforcement in Shenzhen, China on Dec. 23. With the support of other agencies Bit Mining highlighted that the Chinese authorities are investigating the incident and collecting evidence.
The company will devote considerable efforts to recover the stolen digital assets.
The mining company stated that certain crypto assets of Btc.com were already secured. It pointed out that it had implemented technology to better intercept and block hackers after discovering the breach.
Btc.com is currently operating its business as usual, and apart from its digital asset services, its client fund services are unaffected.
Besides the top-10 mining pool, which provides mining services for bitcoin (BTC), ether (ETH), and litecoin (LTC), Bit Mining Limited also owns the mining device manufacturer Bee Computing and operates coin minting facilities.
Since the Chinese government cracked down on the industry in the spring of 2021, Bit Mining has sought to expand its activities in Kazakhstan, which has become a major crypto mining hotspot. In August of this year, the company announced it had secured a $9.3 million registered direct offering from institutional investors.
This story contains tags

What are your thoughts on the hacking attack against the bitcoin mining pool Btc.com? Please leave your thoughts in the comments below.
Image Credits: Shutterstock, Pixabay, Wiki Commons
Disclaimer: This article is for informational purposes only. This article is not intended to be a solicitation or offer to buy or sell any products or services. Bitcoin.com does not provide investment, tax, legal, or accounting advice. The author and the company are not responsible for any loss or damage resulting from or related to the use or reliance of any content, goods, or services in this article.