Top 10 DeFi coins to watch and invest in in 2022
These DeFi cryptocurrencies have the potential to give good returns in 2022 DeFi, or decentralised financial coins, are now a common feature in the crypto market. It is impossible to ignore their importance in the financial market. DeFi platforms provide a space for borrowing, saving, lending and trading without the traditional bureaucracies of the financial…
These DeFi cryptocurrencies have the potential to give good returns in 2022
DeFi, or decentralised financial coins, are now a common feature in the crypto market. It is impossible to ignore their importance in the financial market. DeFi platforms provide a space for borrowing, saving, lending and trading without the traditional bureaucracies of the financial markets. They are a popular option for investors due to their popularity. There are so many of these projects that it can be difficult to choose the best one. These are the top ten most popular DeFi coins you should be considering.
Solana
Solana (SOL) is leading the pack thanks to its consensus mechanism. To verify transactions, this coin uses a proof-of-history mechanism. This has replaced mining and stake common in many projects. Instead, transactions on Solana can be proven to be true by following the timestamps of transactions made on the blockchain in the past. This consensus mechanism speeds up transaction times. Because it doesn't require any assistance from other platforms, the coin is a layer-1 platform. This makes it a promising and valuable coin that can be expected to grow quickly.
Avalanche
Avalanche or Avax is a top contender in the top ten best DeFi you can invest in. The coin is in direct competition with Ethereum because of cheaper transaction costs and faster transactions. The coin claims to be currently the fastest smart contract platform in crypto and blockchain. Avax recently raised $230 million to support its projects and has had some meaningful connections with other blockchain projects, including Graph, Chainlink and SushiSwap. With the progression, this coin is taking and the interest it is garnering in this space, it is bound to be a top contender to invest and watch in 2022.
Fantom
Fantom is another coin that you should consider adding to your investment portfolio. Fantom has attractive features that will make it a major player in the blockchain market. It is safe, allows for lightning fast transaction speeds, and is open-source, permissible, and decentralised. It has a large market capitalization of more than $3Billion and has seen a significant trading volume. This trend will continue into 2022 as the coin's popularity grows in the crypto industry. It is a viable coin to invest in, in 2022 and expect good rewards.
Launched in 2019, Harmony developers intended the coin to bridge scalability and decentralisation. It is focused on creating markets for intangibles, fungible tokens, and sharing data. This project has had several significant partnerships and has raised about $300 million to develop its ecosystem. This fund has increased the coin's value and attracted more users. This project is primarily focused on increasing scalability among networks. It has become a popular platform as well as an investment option. The coin's expected price increase will be in the coming months according to projections.
Waves
Wave is a unique coin operating a three in one ecosystem. It functions as a decentralised platform, an exchange for tokens, and a digital asset. It is designed to increase industry flexibility and encourage widespread adoption of digital coins. It allows the creation and deployment of smart contracts. The platform makes it simple for users to create tokens, even without programming knowledge. This feature will make the project more attractive to a wider range of users who will be able to give it more value. It is a viable coin to watch and invest in in coming 2022.
THORChain
Another top ten DeFi is the THORChain. This protocol is built using the Cosmos SDK, and powered by Tendermint consensus mechanism. It ensures that all transactions can be traced. This is a popular feature that has attracted a lot of investors and users. THORChain can also be fungible. This means that its owners can manage their currency independently of any third parties and without incurring additional costs. This token's trading data indicates that it has a high trading volume and a large market cap of more than $1.8 billion. With its popularity and quick adoption, THORChain is bound to grow in 2022, making it a good coin to invest in.
Kadena
Kadena is not a very popular coin, but it is making waves in the cryptocurrency industry. In the last 10 months, this coin has grown by an impressive 11256%. In about three months, the coin has recorded some big leaps rising from $2 to $27. Like most smart contract platforms, Kadena focuses on speedier transactions at a lower price. It can currently handle about 480,000 transactions per second as compared to Ethereum's 20. This feature attracts new users to the platform, driving its price up. If it continues to grow, you should invest in it.
Curve
Curve is an interesting coin in the DeFi sector. Curve Finance is the largest decentralised Ethereum exchange. Curve, Curve DAO or Curve is the governance token for Curve Finance. There are two main uses for the platform: swapping cryptocurrencies and stake. It has low fees and the lowest price differences between stablecoins. Curve token's value is increasing as it attracts more users.
Oasis Network
The Oasis Network project is working to climb the ranks in the DeFi space. The platform is a layer-1 privacy blockchain that makes use of a proof-of-stake consensus mechanism. The Oasis network allows users to enjoy privacy, unlike Ethereum where transactions can be seen by anyone. The Oasis Network's technology design is impressive, as it is a combination of Polkadot Ethereum. Investors are also considering its transaction speeds of more than 1000 transactions per second. As it attracts more users, the token will grow in value making it a worthwhile investment.
Polkadot
Polkadot is an interesting project. It's a platform that allows independent Blockchains to exchange information and transactions using the Polkadot Relay Chain. This allows for faster transactions and is much more scalable than Ethereum. This makes it a popular coin and an excellent investment choice.
Mint-free OKX Football Cup NFTs for group stage games enter the second round
The second round of group-stage games at the FIFA World Cup 2022 began today. Users can still mint free OKX Football Cup NFTs until the FIFA 2022 Group stage ends Get a chance to redeem stakes and collect rewards by December 20. FIFA World Cup group stage games enter the second round The second round…
The second round of group-stage games at the FIFA World Cup 2022 began today.

Users can still mint free OKX Football Cup NFTs until the FIFA 2022 Group stage ends

Get a chance to redeem stakes and collect rewards by December 20.
FIFA World Cup group stage games enter the second round
The second round of the group stage games for the FIFA World Cup in Qatar is underway. There were some big upsets in the first round, with Saudi Arabia winning against Argentina and Germany losing against Japan.
The second round of games started today and the chances for the host nation to qualify for the knockout round are virtually nonexistent.
You have the chance to get OKX Football NFTs for free as the world cup continues. A week ago, crypto exchange OKX announced the launch of its NFT Football Cup.
The OKX Football Cup is part of the crypto exchange's 'The OKX Football Festival,' and it is giving millions of fans around the world the opportunity to earn from a great prize pool.
With this competition, users can mint free NFTs of their preferred teams and use the NFTs to predict matches and stand a chance to win huge prizes.
NFT minting will end after the group stages
The free minting of the NFTs began on November 21st and will end on December 3rd. All users can participate in minting as long as there are group stages. Users must stake 0.01 for each mint. 01 ETH. You can create up to three teams prior to the group stage. With the first round of games producing some shocking results, you can look at the tables so far and partake in the OKX Football Cup.
Each match offers a fixed prize pool of 20,000 USDT. OKX revealed that it adds 10 USDT for every NFT minted, thus, growing the prize pool.
As an NFT owner, you will earn a share of the $20k in USDT if your team wins a match. However, when the teams draw, each side will share $10,000 in USDT
Participants will also have the option of redeeming their full stakes at the completion of the OKX Football Cup.
---
Share this article
---
Categories
BNB recovers above a critical level. Do we need to wait for another bullish push?
Binance token rose by 17% on Wednesday. The crypto exchange has announced the sale of HOOK tokens on Binance Launchpad. BNB eyes $330 next and is a buy on a retracement As Binance coin (BNB/USD) slipped below $266, it signalled the start of a bearish market. Since July, BNB has maintained the level and any…
Binance token rose by 17% on Wednesday.

The crypto exchange has announced the sale of HOOK tokens on Binance Launchpad.

BNB eyes $330 next and is a buy on a retracement
As Binance coin (BNB/USD) slipped below $266, it signalled the start of a bearish market. Since July, BNB has maintained the level and any decline below could have given bears complete control. However, it is now not the case as BNB trades at $295, well above the crucial level. It is possible that cryptocurrency may be heading for the next level. What happened then?
The gains in BNB happened after November 23 cryptocurrency news. BNB's price rose by 17% on the day after the exchange announced the Hooked Protocol (HOOK) token sale on Binance Launchpad. This is the 29th project launching on Binance Launchpad.
According to the announcement, the token sale will occur through a lottery and conclude on December 1. 25 million HOOK coins have been allocated to the launchpad, equivalent to 5% of the total supply.
This latest development comes as Binance continues to reassure users following the collapse of FTX. Binance announced Thursday that it would contribute $1 billion to help protect crypto-related firms. Binance has committed to increasing this amount if necessary and will look to include traditional financial institutions. This fund is the result of a series of measures that are designed to ensure users have sufficient reserves in case of a crypto confidence crisis.
BNB price action as token hits a 2-week high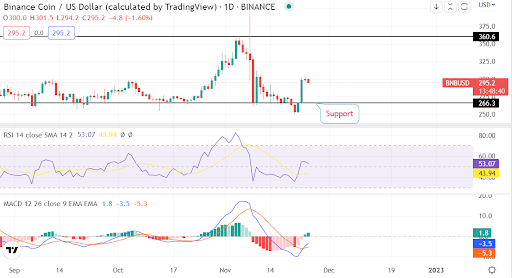 BNB rose from a low of around $250 to a 2-week high of $303. The $266 has been re-established as the immediate support for the cryptocurrency.
A bullish MACD crossover was initiated after the bullish push. The RSI also moved above its midpoint, which suggests that BNB has attracted a lot more buyers since the breakout. The cryptocurrency is consolidating ahead the next move.
Should you buy BNB now?
Buyers may not be done with BNB, with the area around $330 and $360 as the next target. However, if intending to buy BNB, wait for some correction to snap it lower. This consolidation could lead to a correction before the next bullish leg.
Where to buy BNB
eToro
eToro offers a wide range of cryptos, such as Bitcoin, XRP and others, alongside crypto/fiat and crypto/crypto pairs. eToro users have the ability to connect with, learn, copy, or get copied from other users.
Binance
Binance is one of the largest cryptocurrency exchanges in the world. It is better suited to more experienced investors and it offers a large number of cryptocurrencies to choose from, at over 600.
Binance is known for its low trading fees and multiple trading options. These include margin trading, peer-to-peer, spot trading, and margin trading.
---
Share this article
---
Categories
---
Tags
Bitcoin Mining Pool Btc.com Suffers $3 Million Cyberattack
A major cryptocurrency mining pool was attacked by hackers in early March, according to the pool's owner. The hackers stole digital assets worth $3 million from the pool and its clients.
Chinese Authorities Open Investigation into Crypto Mining Pool Hack
A subsidiary of Bit Mining, a coin minting company, was the victim in a hacking attack. The company released a press release. The affected entity is a leading bitcoin mining pool, Btc.com, which in the past week accounted for over 2.5% of the pool distribution and has a share exceeding 4% on annual basis.
According to the announcement published Monday, Dec. 26, the platform was hit on Dec. 3, 2022. As a result, $2.3 million worth of digital assets owned by the company and another $700,000 in asset value belonging to its clients were stolen.
The cyberattack has been reported to law enforcement in Shenzhen, China on Dec. 23. With the support of other agencies Bit Mining highlighted that the Chinese authorities are investigating the incident and collecting evidence.
The company will devote considerable efforts to recover the stolen digital assets.
The mining company stated that certain crypto assets of Btc.com were already secured. It pointed out that it had implemented technology to better intercept and block hackers after discovering the breach.
Btc.com is currently operating its business as usual, and apart from its digital asset services, its client fund services are unaffected.
Besides the top-10 mining pool, which provides mining services for bitcoin (BTC), ether (ETH), and litecoin (LTC), Bit Mining Limited also owns the mining device manufacturer Bee Computing and operates coin minting facilities.
Since the Chinese government cracked down on the industry in the spring of 2021, Bit Mining has sought to expand its activities in Kazakhstan, which has become a major crypto mining hotspot. In August of this year, the company announced it had secured a $9.3 million registered direct offering from institutional investors.
This story contains tags

What are your thoughts on the hacking attack against the bitcoin mining pool Btc.com? Please leave your thoughts in the comments below.
Image Credits: Shutterstock, Pixabay, Wiki Commons
Disclaimer: This article is for informational purposes only. This article is not intended to be a solicitation or offer to buy or sell any products or services. Bitcoin.com does not provide investment, tax, legal, or accounting advice. The author and the company are not responsible for any loss or damage resulting from or related to the use or reliance of any content, goods, or services in this article.