Inside the Nest: Review of Swan Bitcoin App, Fees and Benefits
Swan Bitcoin allows you to automate Bitcoin transactions with both one-time or recurring payments. It functions in a similar way to a savings account and provides investors with an easy, user-friendly method to purchase Bitcoin.
The project aims to onboard 10 million Bitcoin users, helping educate holders in a world where cryptocurrency investments can be somewhat overwhelming to new investors.
The platform offers low-than-average transaction costs, automated investment plans and Swan Private for those with high net-worth.
We've created one the most detailed Swan Bitcoin Reviews, covering all you need to know about this platform, as well as its pros and cons. This will help you decide if it's right for you. We cover
How Swan Bitcoin works

What is Swan Private?

Is Swan Bitcoin secure to use?

The Pros and Cons

The team behind The Project

Which cryptocurrencies are supported on the platform

The fee structure

Customer Support

Whether Swan Bitcoin is worth using
How Does Swan Bitcoin Work?
Swan Bitcoin makes Bitcoin easier and cheaper to trade through the Swan bitcoin app. After creating an account, traders have two options to buy Bitcoin:
A one-time purchase using wire transfer or ACH (Automated clearing house)

Recurring payments with the Swan Bitcoin Automatic plan
With the Swan Automatic Plan, investors can select the amount they wish to save in Bitcoin and make daily, weekly, or monthly investments. After selecting the option, the app will convert USD traders into Bitcoin savings and automatically buy Bitcoin when the price drops through an investment process called dollar-cost average.
Swan purchases Bitcoin through Prime Trust After a user selects how much they wish to invest, funds are transferred into Prime Trust. Prime Trust executes a trade that converts their fiat to Bitcoin at the current market rate.
Prime Trust is known amongst the top industry players, including Strike, Binance, OKex, and Bittrex, for Bitcoin investments.
To keep Swan users informed, users receive confirmations immediately after a Bitcoin withdrawal has been made. You have two options: withdraw your Bitcoin manually, or opt for an auto-withdraw option to send Bitcoin to your wallet after purchases are completed.
Swan Bitcoin offers users a referral program called the "Swan Force Referral Affiliate Program" to increase its user base. Referring someone to the platform earns 0. 25% of the referral's total amount in Bitcoin. However, this is smaller than exchanges such as Binance, which offers up to 40% commission for each person a user refers.
What Is Swan Private?
Swan created Swan Private to serve the needs of high net-worth individuals, corporations and those who wish to create "generational wealth with Bitcoin."
The service is designed for individuals looking to buy at least $100,000 worth of Bitcoin and provides them with several unique benefits, including:
Direct access to the Swan Private Team

No limits on wire transfers

Guidance on self-custody of private keys

Tax assistance
All brokerage services offered by Swan Private are backed up by Prime Trust. This allows users to transfer Bitcoin into their own wallets and offline cold storage wallets via a legal trust account.
Swan private charges will vary between accounts and transactions. You can discuss this with the Swan Private Team.
Is Swan Bitcoin safe?
Swan Bitcoin has been rated as one of the most secure and reliable platforms for Bitcoin investments. Investors can hand over their information and funds will be transferred to Prime Trust, a Nevada-licensed company. Swan works according to the Center For Internet Security Benchmarks security standards.
Pros And Cons Of Swan Bitcoin
Pros
Reduces Emotional Investing
Investors can avoid emotional investment in Bitcoin fluctuations by using an automatic dollar-cost average (DCA) plan. Instead of trying to buy every dip, when there is a drop, investments are made automatically to build a user's portfolio.
Makes Bitcoin Investing Easy
If you are new to cryptocurrency it can seem overwhelming. There are many things to consider when buying crypto. Swan Bitcoin makes it easy to purchase Bitcoin, without having to know anything about cryptocurrency. All you need to do is create an account and connect your bank account.
Lucrative Fee Structure
There are many fee options available to users. These include upfront payments and pay per transaction options. If traders are already on a prepaid plan of $50 per week, then fees are as low as 0.99%. Swan fees for those who are not on a plan can reach 2. 29%, which is still pretty low for Bitcoin investments. For more information on the fees, please see our Fees section.
Cons
Limited Payment Methods
One drawback to Swan Bitcoin is the limited payment options. Only ACH transfers can be used in the US, and wire transfers are available for international traders.
Limited Text Service
Swan Bitcoin informs its users about transactions via texts. However, these services may not be available to all users. Individuals in the following countries cannot access text services:
Australia

Finland

Saudi Arabia

New Zealand

China

Dubai

Namibia
Swan has also announced that its services won't be available in:
North Korea

Cuba

Nigeria

Iran
Complex Fee Structure
The fee structure is flexible enough to suit your investment but it can also be confusing. It can be confusing for users to figure out which fees Swan is best for them and which fees apply to their payment plan. We've made it easy for you to understand this information.
About Swan Bitcoin
Swan Bitcoin was created in 2019 by Cory Klippsten (CEO) and Yan Pritzker (CTO) and was officially launched to the public in March 2020.
Cory holds an MBA from the University of Chicago. He previously worked for Microsoft, Morgan Stanley and Google before moving to venture capital. He has been an advisor in this field for more than a decade. While he is the CEO of Swan Bitcoin, he continues to advise companies like Riot Blockchain (NASDAQ : RIOT).
Yan started his career in software development and startup co-founder roles, helping co-found Reverb, which was acquired in 2019 for $275 million. Yan is also the author of Investing Bitcoin. It is one of the most popular books about the Bitcoin protocol.
Cory and Yan have been looking to grow their team and scale up their services since launching Swan Bitcoin. These are:
Andy Edstrom- Swan's head of advisor services
Stephan Livera Swan is the head of international services. Stephan is a pioneer in Bitcoin adoption and a leading cryptocurrency podcaster.
The team also emphasizes social media via Youtube videos, Twitter spaces and interviews with industry professionals where they discuss current crypto trends. These topics are also a key selling point of its blog Swan Signal.
As of Q3 of 2022, the team is also looking to recruit for Bitcoiner Jobs and is expanding their network through Bitcoiner Events.
What Currencies Does Swan Bitcoin Support?
As of June 2022, the Swan Bitcoin app only accepts ACH transfers from US users and wire transfers for international users (this applies to all countries not on the OFAC list, though payments can only be made in USD.
Trader accounts must be linked to Swan by linking their bank account with Swan. This will allow Prime Trust to make ACH transfers. Although most banks will accept traders, acceptance rates are higher if they use national banks over regional credit unions or banks.
Originally, Swan Bitcoin was only available to US citizens, however, it has since expanded to the UK, France, Mexico, Canada, Germany, Australia, and other countries not on the OFAC list. To register on the platform, residents outside the US will need to use Swan Bitcoin International. Currently, users can access Swan via its website. However, apps for Android and iOS are being developed.
As of June 2022, the platform only offers Bitcoin as an investment option, which can only be purchased in USD. There are no plans to expand margin and leverage trading and they are not available. Swan is instead aiming to build its reputation as a Bitcoin specialist.
The fees charged by the platform are based on the type and amount of BTC involved in the transaction. Here's how they work.
Swan Bitcoin Fees
Fees depend on how much Bitcoin was purchased. They can vary from transaction to transaction. The fees for recurring purchases are the least expensive in the US. There are no withdrawal, storage or performance fees. Based on individual transactions, Swan's trading fees are between 23-80% lower than alternative trading platforms. Below is a breakdown of all fees.
Instant Buys
If traders are on a weekly pre-paid plan of $50 per week or have already purchased over $5000 worth of Bitcoin in the last year, instant buy fees are 0.99%. For those not on a weekly plan, fees are 1.49%.
Wire Transfers
All wire transfers are charged a flat fee of 0.99%.
Recurring Purchases
Once traders sign up for a savings account, they have two payment options:
A prepaid annual fee or a Pay-as-you Go option.
The annual fee is one lump sum. While the pay-as you-go option charges a small amount per transaction, it is an all-inclusive fee.
Prepay Annually Rate
For weekly purchases between $5-24, the annual fee is 1.99%.
For weekly purchases between $25-49, the annual fee is 1.49%.
For weekly purchases for $50+, the annual fee is 0.99%.
Pay As You Go Rate
Purchases between $5-24 are charged at a rate of 2. 29%
Purchases between $25-49 are charged at a rate of 1. 79%
Purchases over $50 are charged at a rate of 1. 19%
Therefore, Swan Private fees may differ from these rates and should be discussed directly with the Swan Private team.
Swan Bitcoin Customer Support
Overall Swan Bitcoins customer service has received great feedback from customers. Swan bitcoin reviews average 4.3/5 on Trustpilot, with 76% of all reviews being five stars. This is significantly better than alternative platforms such as Coinbase, which has an average rating of 1.6/5.
It has been described by users as "all about customer services" with the customer service team being "fast and responsive".
Online submission: https://help.swanbitcoin.com/hc/en-us/requests/new
Phone: +1 (218) 379 7926.
Phone numbers are available Monday through Friday, 7 AM to 3 PM Pacific.
The ticketing system for online submission aims to complete all issues within 24 hours.
The team can also be contacted on social media through Twitter and Facebook.
Is Swan Bitcoin Legit?
Swan Bitcoin creates a bridge between traditional saving methods and Bitcoin investing, making it easier for new cryptocurrency users to invest without using complex crypto exchanges.
The platform is appealing to all Bitcoin holders, including those who are newbies and more experienced.
Bitcoin transactions are not backed by Prime Trust. This makes it one of the most secure ways to purchase Bitcoin.
Although the exact number of users is not known, Swan has undoubtedly optimized his offer by limiting it to Bitcoin. With outstanding reviews all around, this decision was well-received.
With cryptocurrency and Bitcoin becoming a household term, it is possible that Swan Bitcoin could become the top investment platform for Bitcoin investors if it continues to meet its users' needs.
Mint-free OKX Football Cup NFTs for group stage games enter the second round
The second round of group-stage games at the FIFA World Cup 2022 began today. Users can still mint free OKX Football Cup NFTs until the FIFA 2022 Group stage ends Get a chance to redeem stakes and collect rewards by December 20. FIFA World Cup group stage games enter the second round The second round…
The second round of group-stage games at the FIFA World Cup 2022 began today.

Users can still mint free OKX Football Cup NFTs until the FIFA 2022 Group stage ends

Get a chance to redeem stakes and collect rewards by December 20.
FIFA World Cup group stage games enter the second round
The second round of the group stage games for the FIFA World Cup in Qatar is underway. There were some big upsets in the first round, with Saudi Arabia winning against Argentina and Germany losing against Japan.
The second round of games started today and the chances for the host nation to qualify for the knockout round are virtually nonexistent.
You have the chance to get OKX Football NFTs for free as the world cup continues. A week ago, crypto exchange OKX announced the launch of its NFT Football Cup.
The OKX Football Cup is part of the crypto exchange's 'The OKX Football Festival,' and it is giving millions of fans around the world the opportunity to earn from a great prize pool.
With this competition, users can mint free NFTs of their preferred teams and use the NFTs to predict matches and stand a chance to win huge prizes.
NFT minting will end after the group stages
The free minting of the NFTs began on November 21st and will end on December 3rd. All users can participate in minting as long as there are group stages. Users must stake 0.01 for each mint. 01 ETH. You can create up to three teams prior to the group stage. With the first round of games producing some shocking results, you can look at the tables so far and partake in the OKX Football Cup.
Each match offers a fixed prize pool of 20,000 USDT. OKX revealed that it adds 10 USDT for every NFT minted, thus, growing the prize pool.
As an NFT owner, you will earn a share of the $20k in USDT if your team wins a match. However, when the teams draw, each side will share $10,000 in USDT
Participants will also have the option of redeeming their full stakes at the completion of the OKX Football Cup.
---
Share this article
---
Categories
BNB recovers above a critical level. Do we need to wait for another bullish push?
Binance token rose by 17% on Wednesday. The crypto exchange has announced the sale of HOOK tokens on Binance Launchpad. BNB eyes $330 next and is a buy on a retracement As Binance coin (BNB/USD) slipped below $266, it signalled the start of a bearish market. Since July, BNB has maintained the level and any…
Binance token rose by 17% on Wednesday.

The crypto exchange has announced the sale of HOOK tokens on Binance Launchpad.

BNB eyes $330 next and is a buy on a retracement
As Binance coin (BNB/USD) slipped below $266, it signalled the start of a bearish market. Since July, BNB has maintained the level and any decline below could have given bears complete control. However, it is now not the case as BNB trades at $295, well above the crucial level. It is possible that cryptocurrency may be heading for the next level. What happened then?
The gains in BNB happened after November 23 cryptocurrency news. BNB's price rose by 17% on the day after the exchange announced the Hooked Protocol (HOOK) token sale on Binance Launchpad. This is the 29th project launching on Binance Launchpad.
According to the announcement, the token sale will occur through a lottery and conclude on December 1. 25 million HOOK coins have been allocated to the launchpad, equivalent to 5% of the total supply.
This latest development comes as Binance continues to reassure users following the collapse of FTX. Binance announced Thursday that it would contribute $1 billion to help protect crypto-related firms. Binance has committed to increasing this amount if necessary and will look to include traditional financial institutions. This fund is the result of a series of measures that are designed to ensure users have sufficient reserves in case of a crypto confidence crisis.
BNB price action as token hits a 2-week high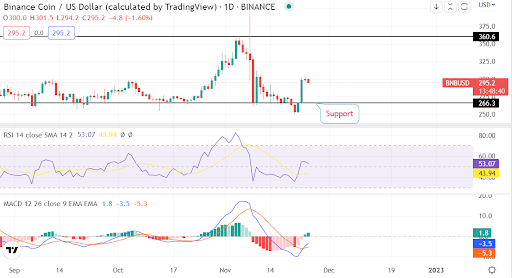 BNB rose from a low of around $250 to a 2-week high of $303. The $266 has been re-established as the immediate support for the cryptocurrency.
A bullish MACD crossover was initiated after the bullish push. The RSI also moved above its midpoint, which suggests that BNB has attracted a lot more buyers since the breakout. The cryptocurrency is consolidating ahead the next move.
Should you buy BNB now?
Buyers may not be done with BNB, with the area around $330 and $360 as the next target. However, if intending to buy BNB, wait for some correction to snap it lower. This consolidation could lead to a correction before the next bullish leg.
Where to buy BNB
eToro
eToro offers a wide range of cryptos, such as Bitcoin, XRP and others, alongside crypto/fiat and crypto/crypto pairs. eToro users have the ability to connect with, learn, copy, or get copied from other users.
Binance
Binance is one of the largest cryptocurrency exchanges in the world. It is better suited to more experienced investors and it offers a large number of cryptocurrencies to choose from, at over 600.
Binance is known for its low trading fees and multiple trading options. These include margin trading, peer-to-peer, spot trading, and margin trading.
---
Share this article
---
Categories
---
Tags
Bitcoin Mining Pool Btc.com Suffers $3 Million Cyberattack
A major cryptocurrency mining pool was attacked by hackers in early March, according to the pool's owner. The hackers stole digital assets worth $3 million from the pool and its clients.
Chinese Authorities Open Investigation into Crypto Mining Pool Hack
A subsidiary of Bit Mining, a coin minting company, was the victim in a hacking attack. The company released a press release. The affected entity is a leading bitcoin mining pool, Btc.com, which in the past week accounted for over 2.5% of the pool distribution and has a share exceeding 4% on annual basis.
According to the announcement published Monday, Dec. 26, the platform was hit on Dec. 3, 2022. As a result, $2.3 million worth of digital assets owned by the company and another $700,000 in asset value belonging to its clients were stolen.
The cyberattack has been reported to law enforcement in Shenzhen, China on Dec. 23. With the support of other agencies Bit Mining highlighted that the Chinese authorities are investigating the incident and collecting evidence.
The company will devote considerable efforts to recover the stolen digital assets.
The mining company stated that certain crypto assets of Btc.com were already secured. It pointed out that it had implemented technology to better intercept and block hackers after discovering the breach.
Btc.com is currently operating its business as usual, and apart from its digital asset services, its client fund services are unaffected.
Besides the top-10 mining pool, which provides mining services for bitcoin (BTC), ether (ETH), and litecoin (LTC), Bit Mining Limited also owns the mining device manufacturer Bee Computing and operates coin minting facilities.
Since the Chinese government cracked down on the industry in the spring of 2021, Bit Mining has sought to expand its activities in Kazakhstan, which has become a major crypto mining hotspot. In August of this year, the company announced it had secured a $9.3 million registered direct offering from institutional investors.
This story contains tags

What are your thoughts on the hacking attack against the bitcoin mining pool Btc.com? Please leave your thoughts in the comments below.
Image Credits: Shutterstock, Pixabay, Wiki Commons
Disclaimer: This article is for informational purposes only. This article is not intended to be a solicitation or offer to buy or sell any products or services. Bitcoin.com does not provide investment, tax, legal, or accounting advice. The author and the company are not responsible for any loss or damage resulting from or related to the use or reliance of any content, goods, or services in this article.