4 of the Best Metaverse Crypto Coins to Buy For 2023
The metaverse is expected to explode in growth over the coming years. Or at least Bloomberg seems to think so. Analysts at Bloomberg have forecast that the metaverse will be worth $800 billion in the near future, and now is the perfect time to start searching for the best metaverse crypto projects that will outperform…
The metaverse is expected to explode in growth over the coming years. Or at least Bloomberg seems to think so. Analysts at Bloomberg have forecast that the metaverse will be worth $800 billion in the near future, and now is the perfect time to start searching for the best metaverse crypto projects that will outperform in the future of social interaction.
In this article, we're showing you four of the best metaverse crypto projects on the market today that could take off in 2023.
1. Metacade (MCADE) – Best Overall Metaverse Crypto Project
Metacade plans to be the primary destination for players to learn about, earn more from, and direct the future of Play2Earn gaming. In Metacade, you'll be able to link up within a vibrant community of like-minded gamers and Web3 fanatics to participate in the world's first player-owned virtual arcade.
On Metacade's platform, there'll be options to find reviews of the latest Play2Earn titles, look up leaderboards, and delve into some of the hottest GameFi alpha posted by industry experts to help you get ahead in the gaming revolution. To encourage the community to help make Metacade the ultimate resource for GameFi, users are rewarded with the MCADE token every time they share reviews, alpha, or content, meaning you can earn by simply sharing your expertise.
Metacade's ultimate goal is to put gaming back into the hands of the players. As the traditional gaming industry edges closer toward a miserable sector, dominated by microtransactions and shareholder profit, Metacade is letting users have their say on the games they want to play with 'Metagrants'. 
Launching in 2023, Metagrants are a mechanism that will see game developers entering their projects into a competition for the community to vote on. The winners of these votes receives funding and support from Metacade to build their game alongside the collective that chose them, with the finished title being added to Metacade's virtual arcade.
While users can earn more from their favourite Play2Earn games by reading top tips or competing in exclusive tournaments, they'll also be able to find a more permanent role in the GameFi economy with Metacade. 
As part of the roadmap for 2024, Metacade is launching a job board that will host dozens of opportunities for the community to get their foot in the door of the gaming industry. These roles will range from becoming a part-time beta tester to landing a senior role with cutting-edge companies at the forefront of Web3.
Eventually, Metacade will become a DAO, meaning that the core team will step down and hand over leadership positions to the most valued members of the community. Once this occurs, users are able to vote on key decisions, like future leaders, token supply restrictions, partnerships, new features, and more.
>>> You can participate in the Metacade pre-sale here <<<
2. Star Atlas (ATLAS) – For the Galactic Explorers Out There
Star Atlas is a space-themed Play2Earn game that's set to become one of the best metaverse projects. It's most comparable to EVE Online, an immensely successful space game that's drawn hundreds of thousands of daily players because of its in-depth universe.
Star Atlas is set in the year 2620, and like EVE Online, it's kitted out with advanced spacecrafts, faction alliances, and conquerable territories, except with one difference: players can actually own their assets. The goal of Star Atlas is to grow your space empire by completing quests, battling for land, mining for resources, and discovering rare treasures. Each in-game asset is stored as an NFT on the Solana blockchain, and therefore has real-world value.
While other Play2Earn games focus on grinding to earn in-game tokens, Star Atlas wants to make this process as fun as possible. Players can opt to participate in battles or spaceship races to start earning the ATLAS token. Others might prefer to team up and discover planets laden with resources, which can be mined, refined, and traded using a network of mining plants, refineries, and merchants to earn real cash. If you own a VR headset, you can even experience space flight from an immersive first-person perspective.
Once you've formed an alliance with others, you can start building entire cities with their own regional decentralised autonomous organisations (DAOs), allowing each region's citizens to vote on what the faction should focus on next, like attacking other players' territories or how to defend against an imminent attack from a rival faction.
By taking a leaf out of EVE Online's book, Star Atlas is set to combine the best aspects of this already successful game with the fantastic ability to truly own your in-game assets on the blockchain. Keep an eye out for Star Atlas – it could soon be one of the biggest and best metaverse crypto games the world has ever seen.
3. Highstreet (HIGH) – Maybe the Most Fashionable Token
Highstreet is one of the best metaverse projects for a good reason. The team behind Highstreet is taking advantage of the ability of the metaverse to create a next-level shopping experience by allowing real-world brands to showcase their physical items in a virtual world. With brands like Balenciaga, LVMH, and Adidas venturing into the metaverse, Highstreet wants to become the solution where any company can set up shop and enter the next generation of commerce.
Physical products, like shoes or t-shirts, are tokenised on the blockchain as NFTs. Shoppers can buy these NFTs, then choose to redeem them for the physical item. Using Highstreet's integration with Shopify, these orders can be automatically sent to the brand's backend for physical fulfillment. 
Highstreet is more than just a virtual mall, however. It's an entire metaverse world where users can complete quests, socialise with others, and attend exclusive events in a Play2Earn MMORPG setting. Beyond the Highstreet Marketplace, there are Highstreet Homes, which are just like real homes. You can fully customise your home to suit your style, hang out with friends, and even look after your virtual pets!
Out in the Highstreet World, you can earn by completing quests and battling monsters in places like Binance Beach, AVAX Alps, and Animoca Archipelago. Each area has its own lore and unique monsters that transform Highstreet into an exciting world filled with dozens of unique experiences. 
As a whole, Highstreet is blending reality with the virtual world in an incredibly unique way. With blockchain brands like Binance and Avalanche already on board, Highstreet is set for a glorious future as one of the best metaverse crypto projects. 
4. The Sandbox (SAND) – Taking Building to the Next Level
The Sandbox is a 3D virtual world that allows users to easily build and explore monetisable games and experiences. It's often compared to Minecraft and Roblox because of its blocky, pixel-based design, and this aesthetic has led The Sandbox to become one of the best metaverse coins. 
The big difference between The Sandbox and those games is that it's completely decentralised, with almost every aspect of the game owned by its users. Using the SAND token, players can buy digital real estate, unique in-game objects, and wearables to customise their avatars, which are all stored on the blockchain and represented by their own NFT.
Land, for example, is stored on the blockchain as a LAND token, while objects and wearables are represented by ASSET tokens. While LAND has a fixed supply, ASSETs can be created by anyone using the VoxEdit tool. VoxEdit allows users to manipulate blocks, known as voxels, to create almost anything their heart desires, like sculptures, characters, weapons, and more. These items can then be bought and sold for a profit on The Sandbox Marketplace.
The most powerful feature of The Sandbox, however, is the Game Maker. The Game Maker allows anyone to create entire games without knowing a single line of code, and comes complete with fighting mechanics, storylines, AI behaviour, and even camera templates. These features have led to dozens of games and experiences being built for the entire community to play, all for free.
The Sandbox has quickly risen to become one of the best crypto metaverse projects after signing brand deals with multiple big names. Warner Music Group has launched a music-themed amusement park in The Sandbox's metaverse, while The Walking Dead and Snoop Dogg both have their own games that have drawn thousands of players. Even the Smurfs are in The Sandbox's metaverse! 
Conclusion – Metacade Wins Out of True Diversity
As you can see, there are several contenders that could rise to take the top spot in the nascent metaverse crypto market. With competition expected to ramp up as metaverse gaming explodes in popularity, it's hard to say definitively which coin will take the lead and become the best investment. 
However, with Metacade displaying some extremely attractive features, such as its virtual arcade games library, dynamic online community hub, and play to earn rewards – alongside strong development prospects such as Metagrants – it's easily shaping up to hold the number one spot as the best metaverse crypto project to invest in for 2023. In stepping outside of the typical bounds of single titles in the GameFi and Play2Earn sectors, and bringing it all into one platform, it offers a significant value proposition that's hard to beat. 
Metacade is expected to grow rapidly as the GameFi industry continues to expand as a whole, regardless of any individual game's performance. Combined with the fact the token is still in presale, it's in a prime position to take the financial advantage over the coming decade, which is precisely why we've crowned it as the best metaverse crypto token to buy for 2023.
You can participate in the Metacade pre-sale here.
---
Share this article
---
Categories
Mint-free OKX Football Cup NFTs for group stage games enter the second round
The second round of group-stage games at the FIFA World Cup 2022 began today. Users can still mint free OKX Football Cup NFTs until the FIFA 2022 Group stage ends Get a chance to redeem stakes and collect rewards by December 20. FIFA World Cup group stage games enter the second round The second round…
The second round of group-stage games at the FIFA World Cup 2022 began today.

Users can still mint free OKX Football Cup NFTs until the FIFA 2022 Group stage ends

Get a chance to redeem stakes and collect rewards by December 20.
FIFA World Cup group stage games enter the second round
The second round of the group stage games for the FIFA World Cup in Qatar is underway. There were some big upsets in the first round, with Saudi Arabia winning against Argentina and Germany losing against Japan.
The second round of games started today and the chances for the host nation to qualify for the knockout round are virtually nonexistent.
You have the chance to get OKX Football NFTs for free as the world cup continues. A week ago, crypto exchange OKX announced the launch of its NFT Football Cup.
The OKX Football Cup is part of the crypto exchange's 'The OKX Football Festival,' and it is giving millions of fans around the world the opportunity to earn from a great prize pool.
With this competition, users can mint free NFTs of their preferred teams and use the NFTs to predict matches and stand a chance to win huge prizes.
NFT minting will end after the group stages
The free minting of the NFTs began on November 21st and will end on December 3rd. All users can participate in minting as long as there are group stages. Users must stake 0.01 for each mint. 01 ETH. You can create up to three teams prior to the group stage. With the first round of games producing some shocking results, you can look at the tables so far and partake in the OKX Football Cup.
Each match offers a fixed prize pool of 20,000 USDT. OKX revealed that it adds 10 USDT for every NFT minted, thus, growing the prize pool.
As an NFT owner, you will earn a share of the $20k in USDT if your team wins a match. However, when the teams draw, each side will share $10,000 in USDT
Participants will also have the option of redeeming their full stakes at the completion of the OKX Football Cup.
---
Share this article
---
Categories
BNB recovers above a critical level. Do we need to wait for another bullish push?
Binance token rose by 17% on Wednesday. The crypto exchange has announced the sale of HOOK tokens on Binance Launchpad. BNB eyes $330 next and is a buy on a retracement As Binance coin (BNB/USD) slipped below $266, it signalled the start of a bearish market. Since July, BNB has maintained the level and any…
Binance token rose by 17% on Wednesday.

The crypto exchange has announced the sale of HOOK tokens on Binance Launchpad.

BNB eyes $330 next and is a buy on a retracement
As Binance coin (BNB/USD) slipped below $266, it signalled the start of a bearish market. Since July, BNB has maintained the level and any decline below could have given bears complete control. However, it is now not the case as BNB trades at $295, well above the crucial level. It is possible that cryptocurrency may be heading for the next level. What happened then?
The gains in BNB happened after November 23 cryptocurrency news. BNB's price rose by 17% on the day after the exchange announced the Hooked Protocol (HOOK) token sale on Binance Launchpad. This is the 29th project launching on Binance Launchpad.
According to the announcement, the token sale will occur through a lottery and conclude on December 1. 25 million HOOK coins have been allocated to the launchpad, equivalent to 5% of the total supply.
This latest development comes as Binance continues to reassure users following the collapse of FTX. Binance announced Thursday that it would contribute $1 billion to help protect crypto-related firms. Binance has committed to increasing this amount if necessary and will look to include traditional financial institutions. This fund is the result of a series of measures that are designed to ensure users have sufficient reserves in case of a crypto confidence crisis.
BNB price action as token hits a 2-week high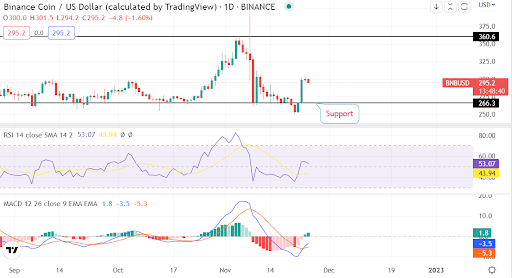 BNB rose from a low of around $250 to a 2-week high of $303. The $266 has been re-established as the immediate support for the cryptocurrency.
A bullish MACD crossover was initiated after the bullish push. The RSI also moved above its midpoint, which suggests that BNB has attracted a lot more buyers since the breakout. The cryptocurrency is consolidating ahead the next move.
Should you buy BNB now?
Buyers may not be done with BNB, with the area around $330 and $360 as the next target. However, if intending to buy BNB, wait for some correction to snap it lower. This consolidation could lead to a correction before the next bullish leg.
Where to buy BNB
eToro
eToro offers a wide range of cryptos, such as Bitcoin, XRP and others, alongside crypto/fiat and crypto/crypto pairs. eToro users have the ability to connect with, learn, copy, or get copied from other users.
Binance
Binance is one of the largest cryptocurrency exchanges in the world. It is better suited to more experienced investors and it offers a large number of cryptocurrencies to choose from, at over 600.
Binance is known for its low trading fees and multiple trading options. These include margin trading, peer-to-peer, spot trading, and margin trading.
---
Share this article
---
Categories
---
Tags
Bitcoin Mining Pool Btc.com Suffers $3 Million Cyberattack
A major cryptocurrency mining pool was attacked by hackers in early March, according to the pool's owner. The hackers stole digital assets worth $3 million from the pool and its clients.
Chinese Authorities Open Investigation into Crypto Mining Pool Hack
A subsidiary of Bit Mining, a coin minting company, was the victim in a hacking attack. The company released a press release. The affected entity is a leading bitcoin mining pool, Btc.com, which in the past week accounted for over 2.5% of the pool distribution and has a share exceeding 4% on annual basis.
According to the announcement published Monday, Dec. 26, the platform was hit on Dec. 3, 2022. As a result, $2.3 million worth of digital assets owned by the company and another $700,000 in asset value belonging to its clients were stolen.
The cyberattack has been reported to law enforcement in Shenzhen, China on Dec. 23. With the support of other agencies Bit Mining highlighted that the Chinese authorities are investigating the incident and collecting evidence.
The company will devote considerable efforts to recover the stolen digital assets.
The mining company stated that certain crypto assets of Btc.com were already secured. It pointed out that it had implemented technology to better intercept and block hackers after discovering the breach.
Btc.com is currently operating its business as usual, and apart from its digital asset services, its client fund services are unaffected.
Besides the top-10 mining pool, which provides mining services for bitcoin (BTC), ether (ETH), and litecoin (LTC), Bit Mining Limited also owns the mining device manufacturer Bee Computing and operates coin minting facilities.
Since the Chinese government cracked down on the industry in the spring of 2021, Bit Mining has sought to expand its activities in Kazakhstan, which has become a major crypto mining hotspot. In August of this year, the company announced it had secured a $9.3 million registered direct offering from institutional investors.
This story contains tags

What are your thoughts on the hacking attack against the bitcoin mining pool Btc.com? Please leave your thoughts in the comments below.
Image Credits: Shutterstock, Pixabay, Wiki Commons
Disclaimer: This article is for informational purposes only. This article is not intended to be a solicitation or offer to buy or sell any products or services. Bitcoin.com does not provide investment, tax, legal, or accounting advice. The author and the company are not responsible for any loss or damage resulting from or related to the use or reliance of any content, goods, or services in this article.